South Nekropolis Plan
Plan for the South Nekropolis, Samothrace — Now Available for Download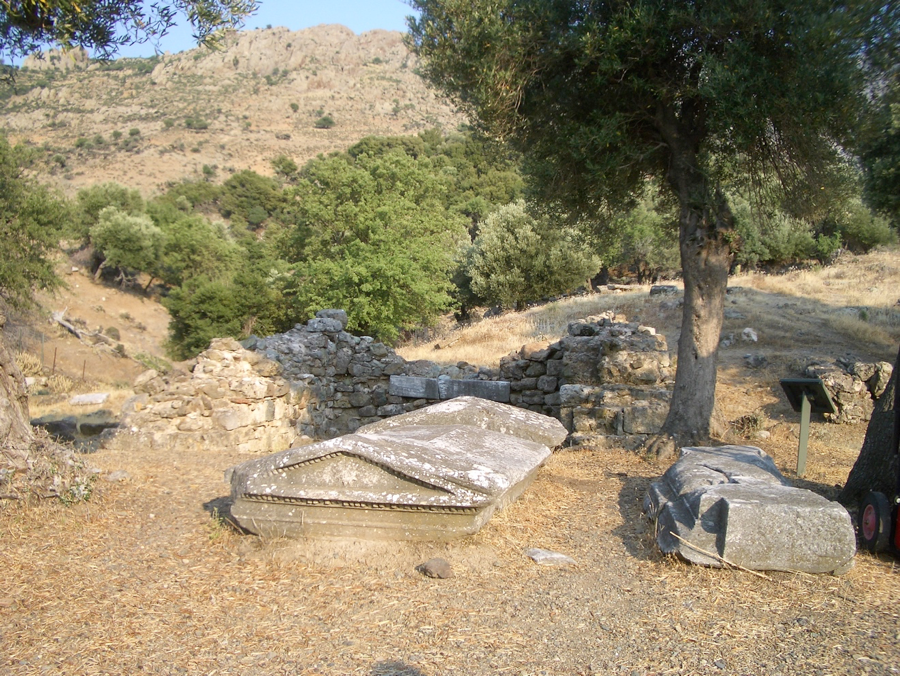 Elsbeth Dusenbery devoted her research career to the excavation and publication of the nekropoleis near the Sanctuary of the Great Gods on Samothrace.  Her work appeared in Samothrace.  Excavations Conducted by the Institute of Fine Arts of New York University, volume 11, The Nekropoleis, published in 1998 by Princeton University Press.  Although the large South Nekropolis was extensively documented with reference to an excavation grid, the volume appeared without a plan of the area. The excavation diaries did not contain the plan, nor could a copy be located in the Samothrace Archives at the Institute of Fine Arts of New York University.
By happy coincidence, we found a copy of the excavation plan of the South Nekropolis at the close of the 2013 field season, when our team was packing its equipment and records into storage in anticipation of the renovation of the Samothrace Archaeological Museum. An envelope containing photocopies of 37 excavation plan sheets on graph paper was found behind boxes of supplies in the conservation lab. The drawings were immediately recognized as the lost plan of the South Nekropolis.
The three documents now available to be downloaded here represent our effort to make this plan available to readers of the Nekropoleis volume. The plan is rendered at 1:50 scale, in a layered pdf.  The layers include the plan, the catalogue ("S") numbers of each tomb, and the excavation ("SN") numbers of each tomb. As an added feature, we have provided a layer that color-codes the tombs according to the dates assigned by Dusenbery. The document, "Plan of the South Nekropolis in the Sanctuary of the Great Gods, Samothrace," describes the original plan and the steps we took to present it here. The document, "Concordance and Revisions" offers a table correlating the numbers given to the tombs during excavation with those of the published catalogue. It also includes the section in which the tomb was excavated, and describes any discrepancies between the published information and that in the plan or the diaries.
All archaeological projects are by nature collaborative; the effort involved in making this plan available is no exception.  Kathryn Brugioni found the plan, Daniel Majarwitz scanned it, and Alison Hight knit it together and traced it in AutoCAD. Julianne Cheng researched each tomb to create the concordance and make the revisions, while Chase Jordan created the layered drawing that we publish here. Ioannis Akamatis, a close personal friend of Elsbeth Dusenbery, provided crucial information regarding Dusenbery's research, and James R. McCredie, Director Emeritus, helped with the history of excavation. We worked with Ioannis Poularakis, Eirini Gallou, and Dimitris Matsas, Director of the ΙΘ΄ Ephorate of Prehistoric and Classical Antiquities, Komotini, to assess the relationship of the Dusenbery plan to our contemporary survey of the region. Michael C. Page created the web page for the plan.  My thanks to them all.
Bonna D. Wescoat
Director of Excavations, Sanctuary of the Great Gods, Samothrace
Professor of Art History, Emory University
Plan of the South Nekropolis:
Research Summary for Plan of the South Nekropolis: View/Download
South Nekropolis Concordance and Revisions: View/Download