February 24-25: Emory University and Université de Bordeaux Montaigne Partner University Fund Project on Ancient Greek Architecture
Keynote Lecture: "Avenues of Innovation and Communication in 3rd Century BC Greek Architecture"
Professor Jacques des Courtils, Université de Bordeaux Montaigne
Friday, February 24, 7:00 p.m.
Reception to follow
Classical architecture—one of ancient Greece's most tangible and enduring contributions to world culture—was transmitted through the innovative designs forged in the tumultuous Hellenistic world and exploited by Roman builders. Two small but significant islands in the northern Aegean—Thasos and Samothrace—played a transformative role in this process. Supported by the Partner University Fund, Emory University and the Université de Bordeaux Montaigne have joined forces in a research project to investigate "Northern Aegean Architectural Networks and the Formation of Hellenistic and Roman Design."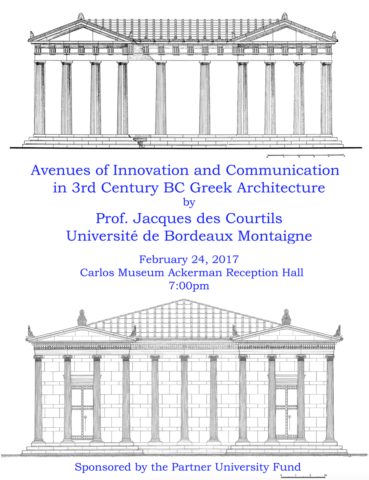 Colloquium: "Architectural Interactions in the Northern Aegean"
Saturday, February 25, 10 a.m.-5 p.m.
In this colloquium, professors and graduate students involved in the French-American research partnership, "Northern Aegean Architectural Networks," will present papers on their current research. Presentations will include the study of design, architectural decoration, architectural dissemination, ancient techniques of construction, and innovative technologies for understanding the ancient material world. This colloquium is sponsored by the Partner University Fund. Participants include:
Jacques des Courtils, Bordeaux-Montaigne
Laurence Cavalier, Bordeaux-Montaigne
Vincent Baillet, Bordeaux-Montaigne
Edith Guiro, Bordeaux-Montaigne
Cassandre Mbonyo-Kiefer, Bordeaux-Montaigne
Alice Ognier, Bordeaux-Montaigne
William Alyward, University of Wisconsin, Madison
Bonna D. Wescoat, Emory University
Cody Houseman, Emory University
Ashley Eckhardt, Emory University
Philip Katz, New York University
Samuel Holzman, University of Pennsylvania
Andrew Ward New York University, Institute of Fine Arts
Please see the attached program for more details.