(31) Ionic Porch
Late 3rd or first half of the 2nd century B.C.
Thasian and Proconnessian marble over fossiliferous limestone foundations
Eastern Hill
ca. 3.04 m x 7.05 m at the foundations
---
A large Ionic Porch was added to the western side of the Dedication of Philip III and Alexander IV.   Roughly centered along the Dedication's western foundations, the porch formed a broad, shallow structure facing north onto the Sacred Way.  The porch is not especially well-preserved, so we must leave open the possibility that the columns and walls combined in either a tetrastyle prostyle (four columns across the façade) or distyle in antis (two columns between the walls) plan.  On top of limestone foundations, the porch was constructed mostly of Thasian marble; the column capitals are of Proconnessian marble.  The back wall of the Dedication also served as the back wall of the Ionic Porch, but we have no surviving evidence for a door connecting the two chambers.
Perhaps its most striking feature, the porch was decorated with an elaborate coffered ceiling with sculpted floral decoration.  In keeping with local practice, the coffer blocks were employed in multiple sizes, with separately worked lids decorated florals carved in relief.  The floral designs vary.  They include both open and closed buds, and the open flowers are configured with four and six petals.  Although no traces of color remain today, the florals were likely painted to enliven their individual petals and leaves.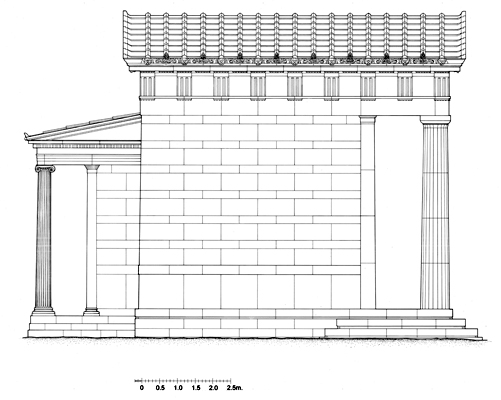 The primary function of a porch is to provide shelter, but, in this case, it is difficult to determine exactly what the Ionic Porch would have covered and with what type of roof.  On the one hand, the elaboration of the Porch in a strategic location along the Sacred Way, but outside the main cultic center of the Sanctuary, may indicate that it functioned as a naiskos, or shrine.  The coffered ceiling is suggestive of a shrine, which recommends a ridge roof.  On the other hand, the shallow plan and design of the sima are more appropriate for a portico with a shed or hipped roof, for a structure that might shelter sculptural dedications, or provide a viewing platform.  In its function as a viewing station, the Ionic Porch provided immediate vantage of the procession along the Sacred Way, and it offered framed vistas back to the ancient city, across the Aegean Sea, and down toward the heart of the Sanctuary. The structure itself claimed a prime topographical location, for the Porch (and its contents) was immediately visible to visitors entering the Sanctuary from the Theatral Circle.  It could clearly be seen looking up the Sacred Way from the center of he Sanctuary.  And as the northernmost building on the crest of the Eastern Hill, it may well have been visible from the more distance prospect of the Aegean Sea.
Selected Bibliography:
Lehmann, K. 1998. Samothrace: A Guide to the Excavations and the Museum. 6th ed.  Revised by J. R. McCredie.  Thessaloniki, pp. 96-100.
Wescoat, B. D. et. al. forthcoming. Samothrace.  Excavations Conducted by the Institute of Fine Arts of New York University, Vol. 9, The Monuments of the Eastern Hill.